Concourse Development Delivering New Angleton Community

(Houston, TX – Feb. 3, 2021) Concourse Development is developing 154 acres for a new-home planned community in Angleton, TX.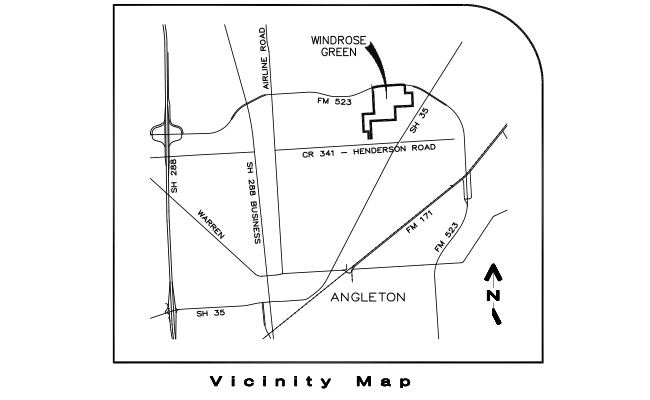 The project, located adjacent to Angleton High School just east of Hwy 288 on Hwy 35 Bypass, will be named Windrose Green. CastleRock Communities and K. Hovnanian Homes will be the exclusive builders in Phase 1 of the community, which will offer approximately 660 40-foot to 50-foot homesites. The community will offer residents amenities usually only available in larger master-planned communities, including a splashpad, covered pavilion, activity lawns, playground, lakes and a trail system.
"We are very excited about bringing a community of this scale and caliber to Angleton," said Harry Masterson, founding principal of Concourse Development. "Southern Brazoria County has an impressive employment base, but workforce housing is in short supply. Working with the City of Angleton to deliver a community to meet those housing and lifestyle needs has been an enjoyable and rewarding experience."
Concourse Development is coordinating with the City of Angleton and Angleton Independent School District to extend community trails for a direct connection to Angleton High School.
Serving the community will be campuses in the Angleton Independent School District, including Rancho Isabella Elementary School, Angleton Junior High School and Angleton High School.
CastleRock Communities is a Texas home builder that builds single-family, detached homes within premier, master-planned communities in the Houston, San Antonio, Austin, and Dallas areas.
Founded in 1959, K. Hovnanian Homes builds homes throughout the United States and is ranked among the nation's top 10 homebuilding companies. In Texas, K. Hovnanian builds in 21 Dallas-Fort Worth communities and 35 communities in the Houston area.
For more information, visit www.concoursedev.com.
About Concourse Development
Founded by Harry Masterson and Jordan Mack, Concourse has a reputation for quality market insight, long-term vision, innovation, and project efficiency. The development team has a track record of more than 25 developments with budgets ranging from $10 million to $250 million and specializes in land assembly, community design, marketing, and residential development processes. Concourse Development is committed to creating environments that enrich people's lives by developing projects that elevate the expectations of the market.